An
outdoor ceiling lamp
is a type of lighting fixture that is designed to be mounted on the ceiling of an outdoor space such as a patio, deck, or porch. These lamps provide functional lighting for outdoor areas, while also adding style and ambiance to the space.
One of the main advantages of outdoor ceiling lamps is their ability to provide ample lighting for outdoor spaces. They are designed to provide directional and diffuse light that illuminates the entire area, making it safer and more comfortable to use at night. Additionally, outdoor ceiling lamps are typically weather-resistant, meaning they can withstand exposure to the elements and are suitable for use in all types of weather.
Another advantage of outdoor ceiling lamps is their versatility. They come in a wide range of sizes, styles, and designs, making it easy to find a lamp that complements the existing decor of any outdoor space. Additionally, many models are designed to be compatible with different types of bulbs, allowing users to choose the type of bulb that best fits their needs in terms of brightness, color temperature, and energy efficiency.
Outdoor ceiling lamps can also be used to create ambiance and enhance the aesthetics of outdoor space. They can be used to highlight specific areas of the space, such as seating areas or dining areas, or to create a warm and inviting atmosphere for entertaining guests. Additionally, many models come with dimming capabilities, allowing users to adjust the brightness of the lamp to their desired level.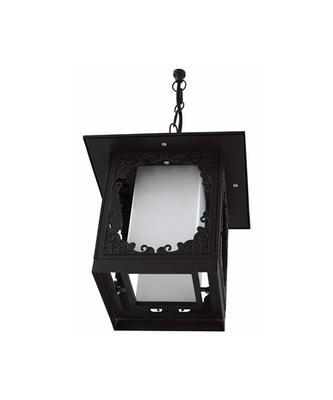 Main structure and performance
Aluminum alloy die-cast shell, firm and durable.
Surface electrostatic spray, constant temperature curing, strong adhesion.
Beautiful appearance, and corrosion resistance.
E26 lamp holder, excellent insulation performance.
Safety instructions:
After the lamp is connected to the power supply, the temperature of the lamp rises gradually. When the lamp is lit or not completely cooled, it is not allowed to touch the lamp with bare hands.
When replacing the bulb, cut off the power and wait for the bulb to cool before replacing it.
When the protective cover of the lamp is broken or damaged, a new protective cover must be replaced The lamp without the protective cover cannot be used.
The ground wire must be reliable.
Light bulb replacement instructions:
Turn off the power switch of the lamp.
After the lamp body is completely cooled, open the upper cover.
Unscrew out the bulb.
Load the new bulb.
The lamp should be covered before connecting the power supply.