Outdoor post lamps
are an excellent way to add both functional and aesthetic value to any outdoor space. Whether you're looking to light up a walkway, highlight a garden, or simply add some character to your property, a post lamp is a versatile and reliable option.
Benefits of Outdoor Post Lamps
One of the primary benefits of outdoor post lamps is their versatility. These lamps can be used in a variety of settings, including residential homes, commercial properties, and public spaces. They are particularly useful for lighting up outdoor areas that are not well-lit or for creating an ambiance in an outdoor entertaining area.
Another benefit of outdoor post lamps is their durability. These lamps are designed to withstand harsh weather conditions, including rain, snow, and wind. Many outdoor post lamps are made with high-quality materials such as stainless steel, aluminum, or bronze, which helps to ensure their longevity.
In addition to being functional and durable, outdoor post lamps also add aesthetic value to any outdoor space. These lamps come in a range of styles, from traditional to modern, so you can easily find one that matches the look and feel of your property. Additionally, many outdoor post lamps can be customized with different shades, finishes, and other design elements to create a unique look that complements your space.
Considerations for Choosing an Outdoor Post Lamp
When choosing an outdoor post lamp, there are several factors to consider. First and foremost, you'll want to think about the intended use of the lamp. Will it be used for lighting up a walkway or a garden, or is it more for decorative purposes? This will help you determine the appropriate size, brightness, and style of the lamp.
Another consideration is the location of the lamp. Outdoor post lamps should be placed in an area where they will receive adequate sunlight during the day to recharge the batteries or power source. Additionally, you'll want to make sure that the lamp is installed in a safe and secure location that is not easily knocked over or damaged.
The type of bulb used in the lamp is also an important consideration. LED bulbs are a popular choice for outdoor post lamps as they are energy-efficient and have a long lifespan. Halogen bulbs are also a good option as they provide bright, warm light, but they are not as energy-efficient as LED bulbs.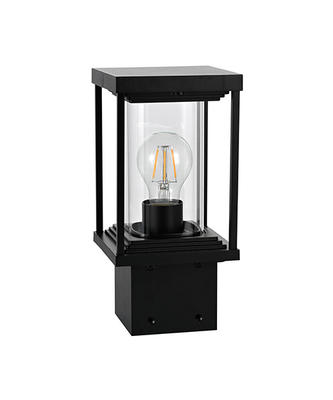 Product feature:
*Die Cast Aluminum Body
*UV Resistant Powder Coating
*Glass diffuser
*Brass or Stainless Steel Fasten Parts
110V~240V/AC 50Hz/60Hz
Max 60W E26/E27